I
really like the NP
Set
primers I have purchased from Target. Primer is crucial in the longevity of your makeup wear. I have tried both the eye and lip primers and the Brightening pre-foundation primer. The eye primer banishes creases on the lid caused by cover up and allows eyeshadow to be applied more smoothly. The lip primer preps your lips for a day of lipstick or can be worn alone as balm.
Set
also carries pre-foundation primer and several cleansers to treat your skin, along with the basics (blush, eyeshadow, etc.).
$15-29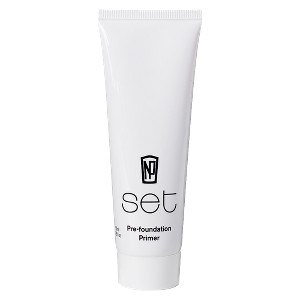 I prefer liquid makeup over powder.
Fit Me
foundation by Maybelline does the trick. It's lightweight on the face. You can match your skin type and find other products coordinating to the number on the product. I'm a 115. Cosmetics come in 18 shades for your individual skin tone.
$5.59
If you're like me and don't have time or money to hit up the salon every couple of weeks, but love a french mani,
Kiss
nails are for you. They are simple to do yourself and easily mistaken for the real thing. You can find them in most mass retailer and grocery stores. Keep in mind excessive wear can cause damage to your natural nails (due to glue) and in between wears, you should buff, file, and use strengthening gel so nails do not become brittle. I recommend Sally Hansen VitaSurge strength gel. Both
$5.99